Save lives this season
2023 Holiday Fund Drive
Animals deserve love...during the holidays and always.
Your heartfelt gift will make such a difference!
Need a Special Occasion Gift?
Dedicate Your Donation
40+ personalized e-card designs available
Give to the animals in a loved one's honor and send a personalized, instant e-card. Memorials, Thanksgiving and the holidays, birthdays and lots more!
Train with Us!
New Classes Start Soon
Our certified dog trainers offer small classes and personalized attention.
We want all pets to be
Loved for Life
Our services to help keep pets and their people together include a free Behavior Helpline, Pet Food Pantry and low-cost veterinary care.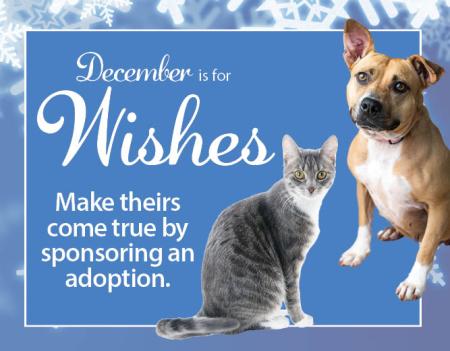 you can grant their wish
We have so many wonderful animals waiting for a family to call their own. You can make their wishes come true! Sponsor an adoption during the month of December and give them a loving home for the holidays ... and forever after.

SPONSOR AN ADOPTION >>

Goldstein cares
Pet Food Pantry
Need some help? Visit the Lisa Mitzen Animal Care Center 12-6 pm daily, except Sundays. A community relations associate will assist you.
You can help keep pets and families together. Drop off your donation of dry cat or dog food in the bin just outside the door at MHHS daily from 12 to 6 pm. You can also bring donations to any Goldstein auto group >> location. Thank you.