Our Mission
Transforming the lives of animals and people through partnerships, protection and hope
about mhhs
A history of growth and advancement, with compassion at the core
Founded in 1887, the Mohawk Hudson Humane Society (MHHS) is the oldest and largest animal protection organization in New York's Capital Region, serving Albany, Rensselaer and surrounding counties. In addition to providing shelter and care for stray, abused and unwanted animals, we provide an ever-increasing array of services for animals and those who care for them. These programs contributed to a 93.3% live release rate in 2022, and include low-cost spay/neuter and wellness services, vaccination and microchip clinics, stray housing for municipalities, dog training, a pet food pantry and humane education programming for all ages.
WE TOUCH THE LIVES OF OVER 5,000 ANIMALS EACH YEAR
In addition to its dedicated staff, MHHS relies heavily on a large team of volunteers who provide over 21,000 hours of their time per year. They contribute greatly to maintaining the health and well-being of animals both within the shelter and in foster care, and play a major role in our fundraising and outreach efforts. Our field services include rescue and care for injured or distressed animals, investigation of reported animal abuse and neglect, and enforcement of Agriculture & Markets laws.
MHHS is a 501(c)(3) not-for-profit organization that relies primarily on private donations. We receive no ongoing funding from federal, state or local governments or any other animal welfare organization. Our federal tax ID is 14-1338459.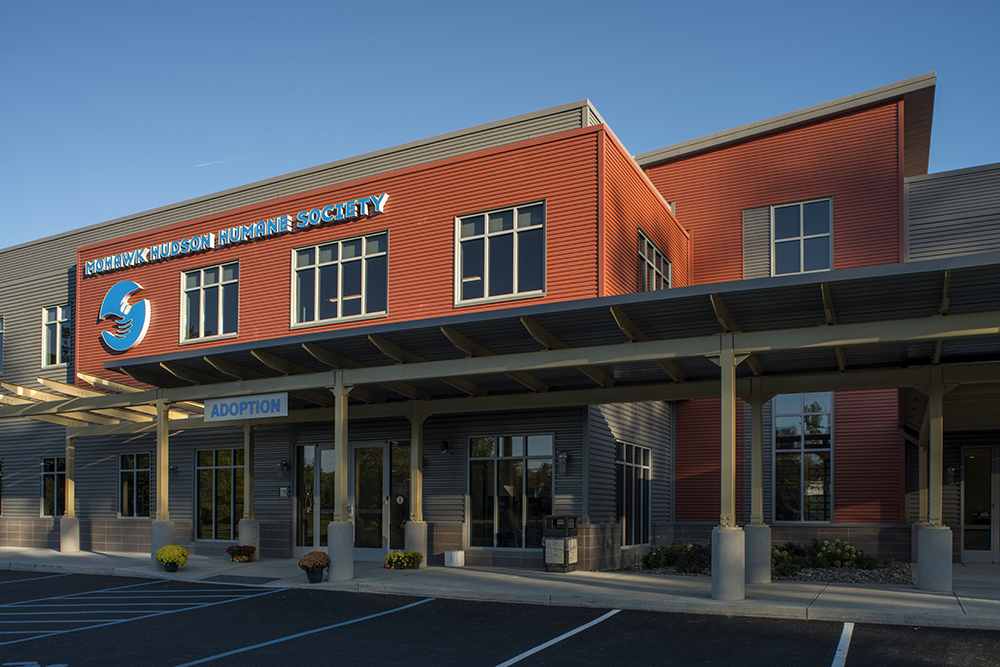 The Lisa Mitzen Animal Care Center opened in Summer 2017 with 32,000 square feet of beautiful space designed for optimal health, housing and medical care. Features include:
Community Rooms for Cats

Two Surgical Suites

Four-Level Cat Condos

Two Dedicated Dog Kennel Rooms
STOP IN TODAY OR TAKE A 3D TOUR BELOW!
2022 Highlights
Facts & Figures
2,333
Pets adopted into loving families
770
Animals cared for in foster homes
21,804
Hours dedicated by volunteers
1,068
Low-cost surgeries provided to public
92,379
Meals provided through our Pet Food Pantry
In 2022, a total of 2,333 pets were adopted into loving homes.

CrossRoads pets are those with terminal, untreatable conditions, but don't know it -- they are still enjoying their lives. We are proud to have placed 21 of these pets in loving homes for the final leg of their journey.

Our foster homes for dogs grew by an amazing 33%. In all, 779 pets were placed with 69 foster caregivers who provided homes when the shelter was over capacity, along with supportive care for orphaned kittens and animals with medical needs, such as post-op recovery, and a quieter environment for those needing special behavioral care.

We helped many families struggling to feed their pets. A total of 92,379 pet meals were donated and distributed through the Goldstein Auto Group Furry Friends Pet Food Pantry.

We provided safety and shelter to stray and unidentified pets, reuniting 428 of them with their families.
Financial
MHHS is a 501(c)(3) not-for-profit organization. Your contributions are tax-deductible to the extent allowed by law. Our federal tax ID is 14-1338459.
Lisa Mitzen Animal Care Center
3 Oakland Avenue
Menands, NY 12204
(For GPS, please use 193 Broadway)